BFPG talk: Building a LISP Machine
At last month's BFPG meetup I did a talk on implementing a stack based machine and writing a simple Lisp compiler. I started the project some time last year, and it was good to give it a feeling of being finished by doing a talk about the process. I also spoke a bit about the book that I used for details on the SECD machine. All my code is on github as usual: https://github.com/carlohamalainen/pysecd. Slides are here.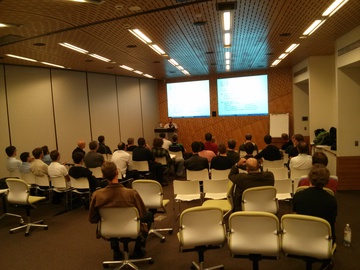 Video is here. Audio is a bit soft – first time at the new venue (Suncorp in Brisbane). Future recordings might have an audio feed from the lectern.
Carlo Hamalainen - Building a LISP Machine - BFPG 2013-05-28 from Rob Manthey on Vimeo.
The guy who spoke before me, Sam Roberts, talked about his experiences of using Haskell and Mu at Standard Chartered Bank. Quite interesting. A colleague of his did a keynote which is up on Youtube: